(Last Updated On: July 20, 2018)
What's Aluminum Wall Panel?
The aluminum wall panel is also called the aluminum cladding, cladding panel, and aluminum solid sheet. It's processed from high-quality aluminum plates. With a variety of processing procedures such as of shearing, punching, bending, arc-rolling, welding, burnishing, riveting assembling, rib assembling, polishing and spray coating, then the aluminum plate processes into wall panel, the material of metal curtain wall/ façade.
As the main choice of exterior façade decoration, comparing with tiles, glass, aluminum composite panels, aluminum honeycomb panels and the marble, particular superiority of aluminum wall panel bring much more possibility to the construction area. Normally, aluminum facade panels can be subdivided into three types: aluminum cladding, aluminum composite panel, and aluminum honeycomb panel. panel types are selected according to the specific application.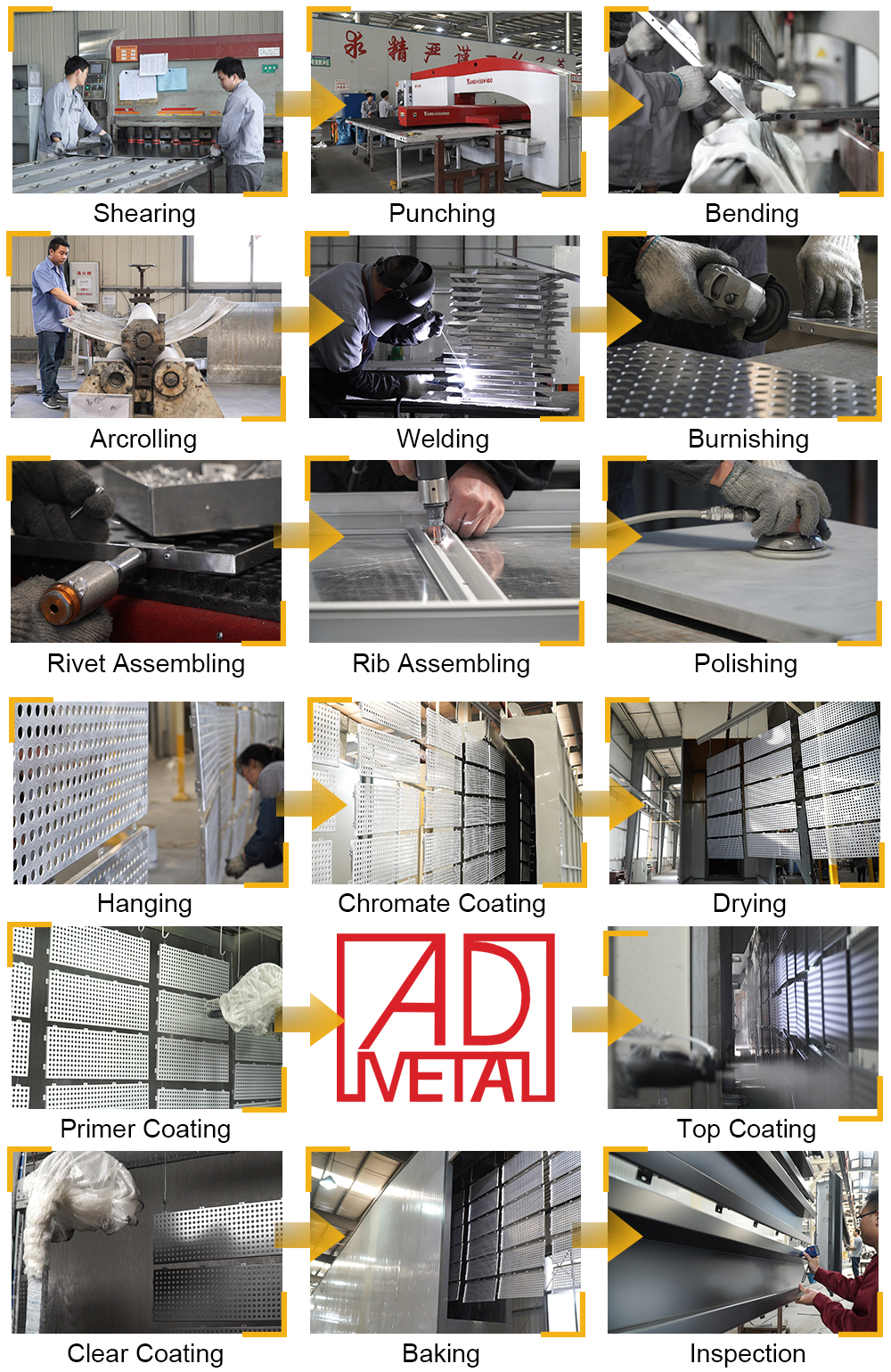 Structure of aluminum wall panel  
The aluminum wall panel is made of 3000 series or 5000 series aluminum alloy. The aluminum wall panel is mainly composed of the veneer panel, stiffener, and bracket.
Surface coating: PVDF coating is usually used for outdoor application, polyester coating and powder coating are used for the indoor application.
Generally, the thickness of aluminum wall panel is 2.5mm and 3.0mm. 2.0mm panel can be used for low rise building and podium building, 1.5mm or 1.0mm panel can be used for indoor wall and ceiling decoration.
Maximum width is within 1900mm, maximum length is within 6000mm.
Main features of the aluminum wall panel
Compared with ceramics, glass, and other materials, aluminum wall panel has the characteristics of lightweight, high strength, good rigidity, and easy processing.
With PVDF coating on the surface, the aluminum wall panel has excellent weather ability, UV resistance ability, and corrosion resistance ability. The color and luster can be maintained very long time. The panels can be used under harsh conditions from -50°C to 80°C.
Good acid and alkali resistance. PVDF coating is the most excellent coatings for outdoor use. We often use world famous brand PVDF coating material like PPG/ AkozeNobel.
Excellent processing performance. It's easy to cut, weld, bend, and made into different special shapes and install on the site. It's unmatched by other decorative materials.
Good sound insulation, shock absorption performance. It's easy to add sound-absorbing cotton, rock wool and other sound-absorbing insulation materials behind the aluminum wall panel. Good flame retardancy, no toxic smoke in case fire.
Varied color choices. RAL color and customized color are acceptable by us.
Not easy to stain, convenient to clean and maintain.
100% Recyclable, friendly to the environment.
Main application for aluminum wall panel
Mainly used for decoration of exterior walls of the buildings.
Interior walls, ceilings, entrance halls, facades, wrapping columns, grid structure, outdoor floating sheds, etc.
(Processing about the aluminum wall panels, start from 2:00 )